Do You Think You Are Good at Multitasking?
Do you want to be more efficient with your time? Of course you do! And you should. Life is too short to not be efficient with your time in business.
Keep reading for some great information that will be helpful for you.
Most business owner don't realize they are not using their time effectively. In fact, most business owners tend to multi task and think they are doing a great job.
Look at this diagram on multitasking facts. Pretty fascinating.
If you are open to doing an exercise to see how multitasking is not assisting you in your business, then grab a pen and piece of paper. Have your phone timer ready to go.
Multitasking Exercise
Here's all the instructions before you begin.
What I want you to do in a moment, after I describe fully what to do, you will print "I am great at multitasking." Don't print it yet!
Underneath this I want to you print "1, 2, 3, 4, 5, 6, 7, 8, 9, 10, 11, 12, 13, 14, 15, 16, 17, 18, 19, 20. Including all the commas.
Get your timer ready and once you have completed the printing of what is instructed then stop the time and record your time.
Ready. Set. Go!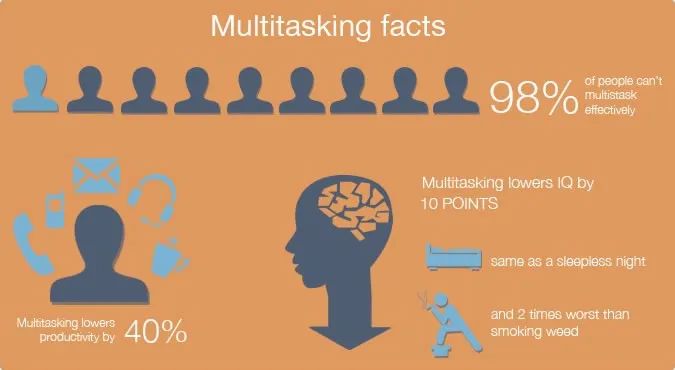 Now you will print the same thing; however, this time alternate the letters and numbers. Meaning:
Print I and then underneath will print 1
Then go back by the I and print A
Then go below and print 2
Then back to the top after the A and print M
Then go below and print 3
Then back after the M and print the G for Great
Keep going back and forth until done.
Remember you will need to time yourself. Have your timer ready to go.
Ready. Set. Go!
This exercise is a sample of how much multitasking takes. I trust your time for the 2nd part was at least two times as long as the first time.
What this means is that multitasking is not using your time effectively. It is better for you to focus on one thing at a time.
I would recommend reading the book One Thing by Gary Keller as this book will assist you to work more effectively. Another book that is great is the Slight Edge by Jeff Olson on how to discipline yourself for success.
What tips do you have that helps you manage your time more efficiently? Share in the comments below!
I wish you all the success.
Cheryl